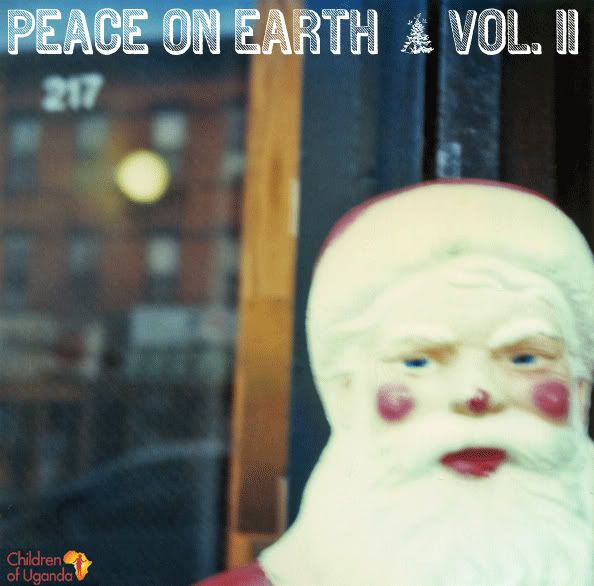 Perhaps you could buy this for someone (yourself?) for Christmas. Proceeds go to the Children of Uganda Fund. It's 7 dollars, which is really great for all these songs:
1. American Analog Set – Winter Birds
2. Telekinesis! – Father Christmas
3. Jennifer O'Connor – Deck The Halls
4. Nathan Phillips – Cross-country Ski's
5. The A-Sides & Sun Airway – Santa, Please
6. Jason Collett – A Beguiled Christmas in Sales
7. Laarks – Hark, the Herald Angels Sing
8. Oxford Collapse – Hester Xmas
9. The Jealous Girlfriends – Haircut
10. Via Audio – Home Before Dark
11. Karl Blau – Christmas Is Different This Year Now That the Aliens Are Here
12. Synthar – Pawn Shop Christmas
13. Pattern is Movement – O, Holy Night
14. Marla Hansen – Waltz
15. Someone Still Loves You Boris Yeltsin & Sweetwater Abilene- Don't Wrap the Puppy
16. Elizabeth & The Catapult – Christmas With The Jews
17. Laura Gibson – It Came Upon a Midnight Clear
18. The Prayers & Tears of Arthur Digby Sellers – Christmas Card to a Hooker in Minneapolis
19. Chris Garneau – It's Almost Christmas
20. Vincent Koops – Silent Night
21. Anathallo – Red Plastic Globe
22. Bodies of Water & No Little Kindness – O Come, O Come, Emmanuel
I'll buy it when I go home. I think I'm exceeding my upload/download limit on my uni connection.  The Chris Garneau track is on his C-Sides EP and is lovely. I am excited to hear the Bodies of Water song, because they are awesome and epic and fantastic and wonderful. SSLYBY, Jason Collett, Karl Blau… all for $7.
Unrelated: Today was SO busy. Nonstop busy. I saw Loney, Dear at lunch and that was amazing, really really special. Then after 3 hours of lectures I went to the Big Chill House to see Gregory and the Hawk. Meredith has such a beautiful voice, it was great. It ended at 9.30 so I made a dash to Kings X then got the tube to Old St and walked to the Old Blue Last where I arrived in time for Loney, Dear. It was phenomenal (I am running out of adjectives because everything was so lovely today).  I got no revision done, whoops. I will upload my photos tomorrow, but I will hold off blogging until post-exam. If I do end up blogging then you know revision is going bad. It's only worth like 5% of the overall grade anyway. Oh yeah and tomorrow I'm seeing the Vivian Girls.