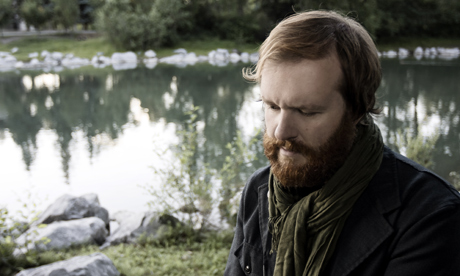 Today, Woodpigeon's Mark Hamilton enlightens us about Calgary.
Best music venue: Broken City has the best vibe, although sadly they don't put on quite as much music as they used to. There's some interesting alternate venues that have sprung up, though — a group called The Summerwood Warren was putting on the most amazing series of all-ages shows at a venue called EMMEDIA, but they're currently on hiatus. Next to Broken City, there's a rather swell house show scene coming up through the cracks, and they're typically packed with some amazing performances.
Best record shop: I've always been a fan of Sloth Records, in no small part due to just how long it's managed to stay open in such an expensive part of town. They've always got a great selection of stuff to sort through. For used stuff, definitely Recordland. Thousands upon thousands of albums — you can even find original Velvet Underground banana records here on occasion. When groups like the Herbaliser come to Calgary, they invariably spend the following day at Recordland (and Recordland shuts the shop for them). It's a surprisingly good rock star spotting location.
Favourite Calgary bands: There's a lot: Kris Ellestad, Knots, BRAIDS, Women, Chad Van Gaalen, Azeda Booth, Live Nude Celebs, The Consonant C, The Secret Brothers … The reason for all of them is the same: everyone's doing something quite different, but it's all incredible. I think a lot of people might be taking a little break at the moment, but I still think Calgary's music scene can take on just about any other one going in terms of quality and excitement.
Interesting Calgary fact: I grew up in one of the rougher parts of town called Forest Lawn. Up until 1961 it was its own town, but Calgary annexed it and took it in. It's always been known as a rather shifty area, though, in large part due to its initial building. Developers claimed there was to be a direct train line into downtown Calgary, and laid fake tracks down, ending once they crested over the top of the hill. (From this hill you see downtown off in the distance). Once every lot was sold, thanks in no small part to the direct train line, the developers disappeared never to be seen again. By this point, Calgary's so huge (same land size as Greater New York City, with 1/7th the population), that Forest Lawn is pretty much considered inner-city.
Anything else we need to know about Calgary? The best thing about Calgary is getting out of it — drive straight towards the mountains and soon you'll be in the paradise of the Rockies.
Woodpigeon make brilliant, melodic, folky music with really captivating lyrics. I saw Mark twice last year and he was fantastic both times, I can only imagine how swoonsome it must be with the full band. Listen to them and go see them live!