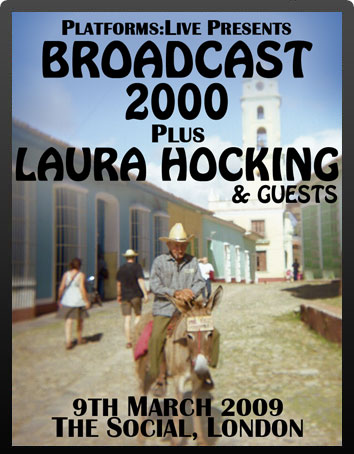 A mere 3 days have passed since I last witnessed live music, and I miss it alot. I had a super duper lovely weekend at home and I'm going back to London tomorrow. In search of a decent show, I found this.
Broadcast 2000 and Laura Hocking at The Social for a bank balance friendly £5.
I've seen Broadcast 2000 before and they were alot of fun, inviting audience members on stage to shake the shakers. I listened to Laura Hocking and my first reaction was 'WOW she sounds the same as Emmy!'. Yes indeed, they do sound very similar. This is what impelled be to buy a ticket, Laura sounds very interesting and I am intrigued to hear her play. The show is put on by the brilliant Platforms Live, who are consistently setting up fantastic shows. Great.